/ digital & video / Crisis
/ an appeal to the senses
Experience is a powerful thing. That's why we knew that people would only sit up and take notice of homelessness if they experienced it for themselves. So, to help Crisis, the UK's leading charity in the fight against homelessness, we created a campaign to do just that.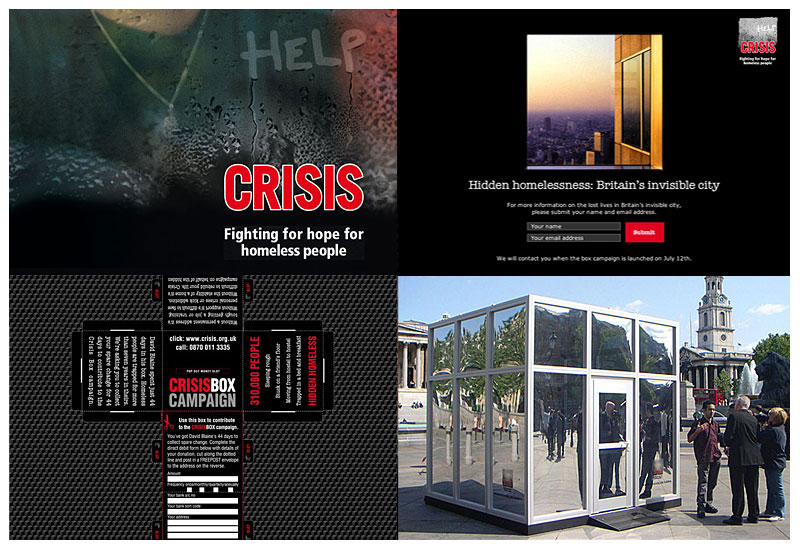 / digital & video / Crisis / an appeal to the senses
/ what we did and how we did it
The focal point of the campaign was the Crisis Box, a glass box that people could walk into and experience a feeling of homelessness. The box was designed so that you could see out, but no one could see in, reflecting the plight of the 'hidden homeless' – the estimated 380,000 people that are currently homeless in Britain. That's a hidden city almost the size of Manchester. In addition, the box included a soundtrack, created by recording the experiences of real homeless people.
But one box alone wasn't going to reach enough people.
So we created a virtual version of the box online, to give everyone the chance to step inside. In addition, we used images and the voices of real homeless people to create an online manifesto for change – presenting the shocking facts about homelessness in a very human as well as attention-grabbing way. After all, every one of those 380,000 people is an individual with their own story to tell.
The campaign is a great example of how digital technologies can really bring a campaign to life – literally enabling us to tell people's stories in their own words, whilst reaching an incredible number of people.