/ websites / Incorporatewear
/ from catwalks to computers
Gok Wan may know how to look good naked, but how about looking good online? That's when leading UK workwear company, Incorporatewear, turned to Lawrence & Pierce.
Inspired by the flamboyant and super-talented Jeff Banks, Incorporatewear dresses many of the UK's leading blue chip organisations – from Barclays Bank to Butlin's Red Coats. Yes, Incorporatewear knows all about combining the style of the catwalk with the practicality of the workplace, but it wasn't so sure how to communicate with clients.
Luckily for Incorporatewear, that's our job.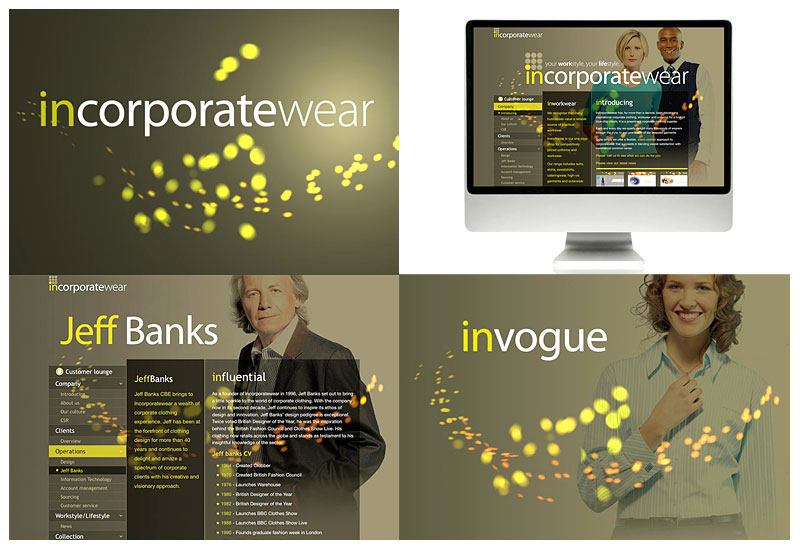 / websites / Incorporatewear / from catwalks to computers
/ what we did and how we did it
We began by immersing ourselves in Incorporatewear's world, then we set about designing a new brand identity for the company – to give it a fresh, attention-grabbing look and feel that would appeal to clients and potential clients.
Next, we created a new website for Incorporatewear, using its new brand identity supported by mailers, leaflets and brochures. But as we all know, looking drop dead gorgeous isn't enough in these tough economic times – you need to knock 'em dead too.
That's why we ensured Incorporatewear's website was also designed to help them do what it does best – sell corporatewear.
Last but not least, we gave the company a few simple guidelines to help it use its new identity in all its marketing and communications. So what did Incorporatewear think?
"Lawrence & Pierce understood the type of company we are and the image we wish to portray. Looking at our exciting brand development, dynamic website and the potential for more creative communications, our new identity will really boost business and our client base."
Andy Norris, Marketing Executive, Incorporatewear.