/ websites / Wrangler Footwear
/ seeing is believing
We're not going to teach you to suck eggs. We know you know how great online is. We're not going to blind you with technology either. One of the best things about online is that anyone can use it. Take Wrangler Footwear for example. They came to us because they wanted a cost effective way to raise the brand's profile in the UK. As soon as we heard the words 'cost effective' we thought of doing something online – but not just anything – something that would really hit people between the eyes – well actually a bit further down…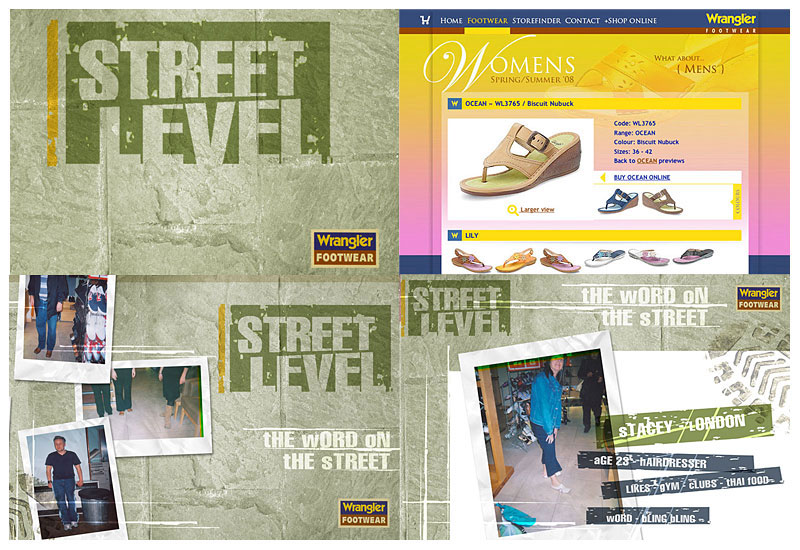 / websites / Wrangler Footwear / seeing is believing
/ what we did and how we did it
We came up with the idea of creating a website for Wrangler Footwear called Street Level, designed to showcase what's cool on Britain's streets right now – not through our eyes, but through the much sharper eyes of those responsible for selling Wrangler Footwear. After all, they're the kiddies when it comes to spotting what's hot – especially at street level.
The website used digital photographs taken by store staff to get everyone talking about Wrangler Footwear – from the general public and journalists, to retailers and store staff themselves. Because the website was created by an army of 'Citizen Designers' it felt a lot more real than if it had been contrived by us, talking to people in a familiar language – the language of street fashion – and most of all cool shoes.
We think Street Level really goes to show how cost-effective online can be – and even more importantly, how you can use it to get everyone truly involved with your business.