/ literature / The Wash House
/ the heart of the matter
Many people see design as the fluffy stuff – but if it's well done – it can help to totally transform your business. Take appliance specialist the Wash House for instance. We refreshed the look and feel of their brand and this inspired them to introduce a new range of after-care services.
As a result we got the chance to do what we love doing best – develop the new brand. In this case, into in-store literature and direct mail, designed to communicate the new services to customers.
Literature is often the acid test of branding because it proves if the new brand really works, right where it matters, on the shop floor.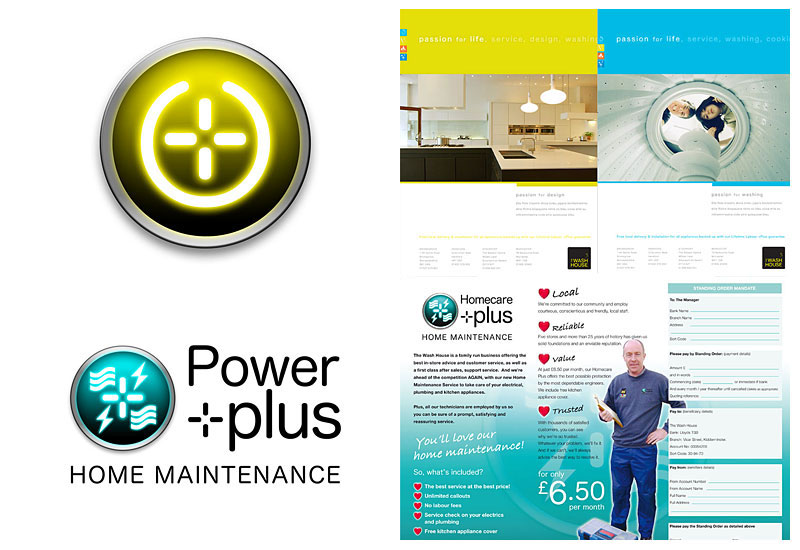 / literature / The Wash House / the heart of the matter
/ what we did and how we did it
The Wash House's new brand uses four distinct colours to identify what the company specialises in – washing, cooking, freezing and design. So naturally we used variations of these colours to create literature which customers would instantly recognise and warm to.
We also added touches like hand-written fonts and heart-shaped bullet points to communicate the Wash House's personality. In addition, we used pictures of real Wash House people to tell customers about the company's great new after-care services – including Enviro Plus, a scheme that encourages people to buy reconditioned appliances – to save money and the planet – and Homecare Plus, a scheme to help customers take care of their appliances at home.
We think the new literature does the job rather well – getting the message across whilst making the Wash House feel part of the family.