/ literature / Thorntons
/ sweet talk
Chocolate is great, full stop. But, there's more to it than meets the eye. Take the Christmas brochure we've just designed for Thorntons for example. Thorntons wanted the brochure to inspire a whole range of emotions in people – from a sense of wonder and good old Christmas spirit, to a belief that Thorntons is the perfect 'corporate' gift. With the aim of driving up their sales at a crucial period for retailers and making the most of valuable business to business opportunities.
Yes, the brochure was aimed at businesses, not the general public, so we were dealing with a very specific kettle of fish…an audience who wouldn't necessarily be swayed by mere pictures of chocolate alone…however delicious it may be.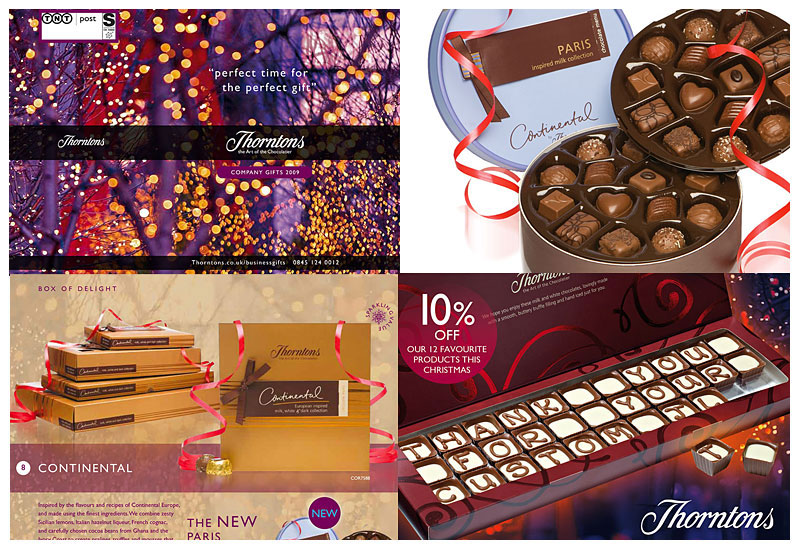 / literature / Thorntons / sweet talk
/ what we did and how we did it
By using abstract photography bursting with light and sparkle, we went for creating a feel of 'grown up' festive wonder – whilst avoiding the usual Christmas clichés. We also used traditional Christmas ideas to communicate down to earth messages in a warmer way – such as calling the brochure's order form a 'wish list' and pushing Thorntons key products as 'twelve gifts for Christmas'. As you can see, we kept the mood alive by running a chocolate box ribbon through the centre of the brochure and by focusing the message on 'giving'.
Thorntons loved our approach and we think it's sure to melt the hearts of the biggest Christmas grinches…
Once again, the Thorntons brochure shows that literature is often how brands work in practice – getting across the big brand message 'creating wonder' whilst reinforcing the idea that Thorntons represents value for money and quality.
By doing these things, we made sure that the brochure delivered a great return on Thorntons' investment whilst tapping into the cost-conscious mood of businesses in order to make sure that they chose chocolates this Christmas, over other corporate gifts available.