/ advertising / Urban Digital
/ a match made in heaven
Urban Digital creates moving advertising for public spaces such as shopping malls – the UK's top 20 shopping malls to be precise. And when we say moving, we don't mean emotional either, we mean moving images projected onto screens, specially designed to fit onto windows or even across whole buildings, together with sound and interactive wizardry such as touch screen and gesture-based technologies.
As you can imagine, their approach is helping to change the face of advertising but it's also caught the attention of city councils up and down the land…
Recently, Urban Digital has been working with councils to transform empty and neglected shop fronts into striking and useful show-pieces by projecting stunning new graphics onto buildings and using them to house infopoints – digital screens displaying all kinds of useful information for the public.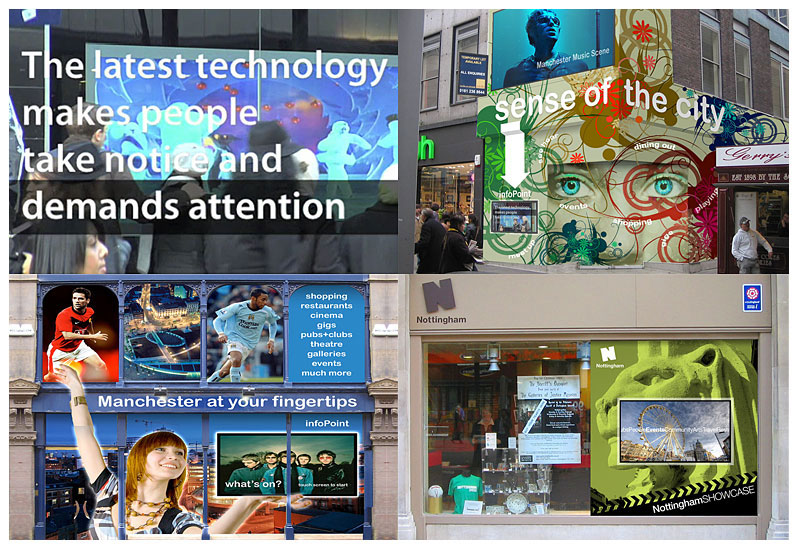 / advertising / Urban Digital / a match made in heaven
/ what we did and how we did it
Our relationship with Urban Digital has always been good, so good in fact that we're now partners – working with them to produce graphics and moving images for their clients, as well as for them – including Urban Digital's new range of shop fronts.
What they like about us is the fact that we really understand what they do. For example, we helped to create a new brand look and feel for the company, including its new name – Urban Digital. The new brand uses street-style graphics with a real sense of movement to reflect what Urban Digital does – and its dynamic, never-stand-still personality.
We've also used moving images to help market the company, including a series of vox pops filmed on London's Oxford Street. The vox pops movies are designed to showcase what Urban Digital does whilst using the public's reaction as the soundtrack. Because the public's reaction is real, the soundtrack is much stronger than a traditional voice-over, and the perfect way to promote Urban Digital to new customers – via its website
"With such a novel approach to outdoor media, we were thrilled that Lawrence & Pierce were able to complement our modern idea with such a fresh marketing style that successfully caught the attention of our target audience. They fully understood both our product and our company, making for a great working relationship."
Simon Russell, Managing Director, WindowGain/ Urban Digital